Marano sul Panaro, Modena
Marano sul Panaro, Modena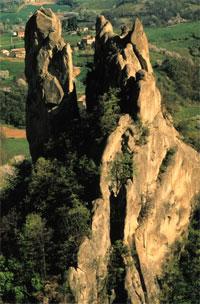 Marano sul Panaro is a lovely village situated on the left bank of the river Panaro, whose XV-century old town still retains a cultural, historic and artistic heritage of great value.

The ancient village, which nestles at the foot of a gentle hill, hosts the Oratory of St. Anthony of Padua, a large complex known as "the monastery" and a 18-century villa; on the top of the hill are the ruined walls of the Castle of Montecuccoli. The Parish Church of St. Lorenzo, whose presence has been documented since 1643, and the ancient Montecuccoli Mill dating back to 1600 dominate the main square, the imposing Piazza Matteotti.

The elegant municipality of Marano sul Panaro is situated halfway between Modena's gentle hills and steep mountains and is part of the local Route of Wines and Flavours. Marano sul Panaro has a reputation as a great gastronomic centre. Some of the surrounding area's most famous staples originate here, the so-called "humble" products: crescentine, tigelle, gnocchi fritti and borlenghi.

The municipal territory of Marano sul Panaro is part of the Regional Park of the Stones of Roccamaltina. The park lurks just in the heart of the Modena Apennines, on the left bank of the river Panaro, and is a protected environmental area. Among the most characteristic features it cherishes are the so-called Stones, impressive rock spurs whose steep slopes carpeted with exquisite plants gaze across the countryside from on high.

Apart from hosting breathtaking natural beauties, the park also houses wonderful specimen of Peregrine Falcon, which nest just over these mountains. The landscape of the natural reserve is a chequerboard of gullies, clayey territories, eerie wastes and gentle slopes carpeted with orchards, vineyards, chestnut woods and pastures. In the middle of the park rise three enchanting natural sandstone needles. Because of their impressive height, they were once used as strongholds aimed at controlling the area surrounding Pieve di Trebbio, where an Etruscan settlement was founded in ancient times.
TRAVEL GUIDES EMILIA-ROMAGNA