REQUEST A QUOTATION
Adrenaline and lots of fun in the amazing Mirabilandia amusement park
Mirabilandia Season 2019
Opening April 5th 2019 - Closing November 3rd 2019
Mirabilandia opens on weekends 6, 7 and 13, 14 April. From April 18th it opens every day until September 15th.
After this date it will open on the weekends of 21/22, 28/29 September and every weekend of October and 1, 2 and 3 November.
Prices 2019
Full price: € 37.90 (€ 26.90 online)
Reduced (under 140 cm): € 29.90 (€ 24.90 online)
Family (2 adults + 2 children): € 135.60 (€ 99.90 online)
Reduced over 60 only at checkout: € 29.90
Children (under 100 cm up to 3 years): Free
Disabled: Free
Companions for disabled people: € 28.90 (at the cash desk only)
Mirabilandia
is one of the largest and most famous amusements parks in Europe.
The meaning of its name is "land of wonders".
It opened in 1992 and is located on the Adriatica trunk road in the village of Savio, south of Ravenna. It is easily accessible by car from the E45 motorway. The closest train station is Lido di Classe-Lido di Savio, which is only 3 km away; a free shuttle bus runs between the park and the train station at frequent intervals.
The
Eurowheel
(90m), which is already visible at a certain distance, is the largest Ferris wheel in the world and has become the symbol of Mirabilandia. This attraction, which is illuminated at night with thousands of lights, offers unrivalled views from its highest point.
Surrounded by greenery, Mirabilandia is the ideal place in which to spend a family day. The different areas are designed to alternate moments of fun with moments of relaxation. The numerous members of staff are always available to help and there are many services available. Each year there are new rides and attractions, designed to entertain both adults and children of all ages. There is no shortage of attractions and entertainment for the more daring visitors.
Among the most interesting attractions are the
Columbia & Discovery
, Italy's most famous free fall towers: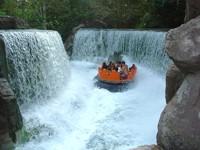 on the first one, visitors are secured to their seats which are launched upwards along the 65-meter-long tower at an incredible speed; on the second tower, the path is inverted with an adrenaline-fuelled descent. Exciting reproductions of natural beauty spots such as Polynesian canoes passing along the foot of erupting volcanoes, the
Niagara
Falls, and the rapids of the
Rio Bravo
(winding water paths which must be faced aboard inflatable rafts) will give visitors unforgettable emotions.
Katun
, the longest and fastest rollercoaster in Europe, third in the world, is a must for those in search of thrills and excitement. The park's most famous ride winds through faithful reproductions of pre-Colombian Maya ruins and will give you an adrenaline rush like you've never experienced before.
Among the more extreme rides are the
Divertical
, the world's highest water coaster, the
iSpeed
, an adrenaline-fuelled rollercoaster and the Phobia, a journey of pure fear and frightening experiences.
In addition to those mentioned, there are also numerous other attractions in the park and a special area,
Bimbopoli
, designed exclusively to entertain smaller children.
While taking a break between rides, visitors can enjoy a variety of shows set up in different areas of the amusement park, from magic shows to comedy shows, from
Police Academy
car chases (the beloved stuntman show inspired by the famous movie franchise) to the Island of the Pirates acrobatic dives, from the Laser Night Show (a show of lights, water, laser beams, artificial fog, techno music and fireworks) to spectacular musicals.
The themed
food courts
offer a wide variety of food options. You can choose between the pirate inspired
Locanda del Faro
, the
Sombrero
, serving Mexican specialities, and the
Drive In
, inspired by 1950s America. Since 2003, the amusement park has been annexed to
Mirabilandia Beach
, a large water park with artificial beaches, water rides, slides and swimming pools where you can cool off on hot summer days.
Mirabilandia is
open from April to mid-October
, a time of the year in which the Romagna Riviera provides tourists all the best it has to offer for fun-filled holidays. A day spent in Mirabilandia will be a day of fun, excitement and unforgettable adventures.
For more information:
Statale Adriatica SS 16 Km 162, 48125 Savio – Loc. Mirabilandia (RA)
Tel. +39 0544 561156 – Fax +39 0544 560195
mirabilandia@mirabilandia – www.mirabilandia.com