Modena's Duomo
The whole city of Modena develops around its main building: the Duomo. This Romanesque masterpiece realized by the famous architect Lanfranco has been able to catch the attention of both tourists and local inhabitants since June 1099, when the foundation stone was layed.

The impressive building is wholly covered with white marble and crossed by an elegant loggia which marks the single spaces through outstanding light and shade effects.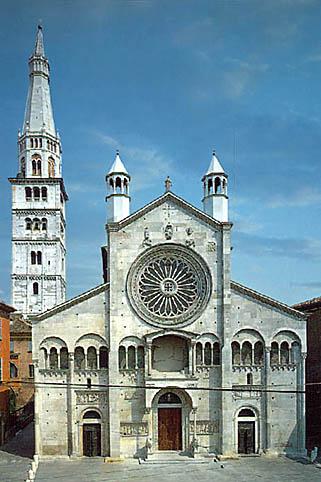 Although the plan by Lanfranco was able to influence the late Romanesque architecture and he was said to have drawn inspiration from God himself, the real miracle of God is the harmonious combination of both sculptural and architectural spaces.

The cathedral was embellished by Wiligelmo and his pupils, who employed both vegetable and fantastic patterns to decorate every capital of the loggia and the semi-columns, as well as every bracket of the underlying small arches so as to provide the whole perimeter an harmonious chromatic and spatial balance.

The sculptures of the facade, among which the impressive decoration of the Main Gate, provide an overview of the concept the Medieval Man had of themselves and the spiritual world. Human life was represented through patterns depicting dark woods and mysterious spirals of climbing plants which symbolize the constant dangers of the sin interfering with the straight spiritual path of the God-fearings. Conflict seems to be inevitable: among lions, drakes and centaurs is the reassuring vision of the divine salvation, evoked by patterns depicting the grape harvest.

The same interpretation has also been attributed to the sculptures of the Genesis, the so-called "Porta della Pescheria" (Fish-Market Gate) and "Porta dei Principi" (Princes' Gate), the latter overlooking the square to tell believers the history of the patron saint of the city, St. Geminiano. Surrounded by the Duomo, the Ghirlandina tower and the large colonnade of the Town Hall, Piazza Grande still retains the fascination of a traditional civic gathering place.
TRAVEL GUIDES EMILIA-ROMAGNA