Castel San Pietro Terme
A small municipality situated in the province of Bologna, Castel San Pietro Terme rises just across the border between Emilia and Romagna and is an appreciated holiday destination for its spa establishment, 18-hole golf court and race-course.

Castel San Pietro Terme has increasingly developed over the last ten decades with the building of new accommodation facilities situated near the spas and the development of a large sports centre. However, local inhabitants are still deeply involved with the past: life revolves around the arcades and food and wine traditions play a fundamental role, thus making the city a borderland halfway between past and future.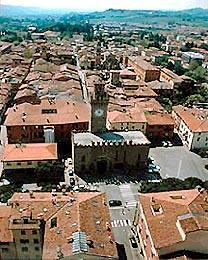 The history of Castel San Pietro Terme started after the battle of Legnano of 1199, when Bologna commissioned the building of many fortresses in the surrounding area to suit defensive purposes. One of the most important castles was the one built in Castel San Pietro.
One of the most important monuments adorning the city centre is the column erected to celebrate Our Lady of the Rosary, the patron saint of the city. According to the believers, Our Lady of the Rosary rescued the city from destruction after a series of earthquakes.

Among the numerous churches to be found in Castel San Pietro are the Parish Church of St. Maria Maggiore, which was built in 1700 over a pre-existing building dating back to 1200 and which cherishes inestimable works of art, the church of Vedriano, which was once situated on a hill and then rebuilt in the 50s in its current location, and the church of St. Mamante di Liano, which dates back to 1778, was rebuilt after World War II and cherishes the famous picture dedicated to St. Mamante. Piazza XX Settembre hosts the Sanctuary of St. Crucifix, which dates back to 1750 and cherishes a miraculous crucifix which attracts thousands of pilgrims

Among the town's major attractions are the spa establishments which exploit the sulphur waters and the waters containing sodium chloride, bromide and iodide which flow from San Donato and Bagni springs. The therapeutic properties carried out by those waters were ascertained in 1830, and since then they have been used to treat osteoarticular and respiratory diseases through mud baths, massages, hydromassage, inhalations, hydropinic therapies and lung ventilation.

The spas of Castel San Pietro offer people the possibility to undergo beauty treatments based on the mineral salts of their thermal waters. These spa establishments are managed by a skilled staff of medical doctors, such as dermatologists, gynaecologists and cardiologists, who help guests regenerate and keep fit during their holidays in Castel San Pietro.

Not to be missed is the Festival of the Pork Chop, which takes place here during the so-called "Settembre Castellano" along with the famous "Carrera" push cart race. Teams are made up of a driver and four people who push the cart. This beloved event takes place every year on the second Sunday in September and attracts large numbers of visitors.
TRAVEL GUIDES EMILIA-ROMAGNA