REQUEST A QUOTATION
Fiabilandia: the amusement park for children in Rivazzurra
Opening hours during the summer season:
The park opens from April 6th to September 29th from 10am to 6pm, with some exceptions:
2, 3 Maggio and all the May weekends: from 10.30 to 17
From 5 to 25 August: from 10 to 19
Closed all weekdays in April and from September 16th to October 30th
Later the park opens every weekend in October and 1, 2, 3 and 4 November from 10.30 to 17.30
On 31 October the park is open from 15 to 22
Ticket Prices:
Full price: € 24
Reduced (under 130 cm): € 17
Children (under 100 cm up to 3 years): Free
Over 65: € 21
Escorts for the disabled: € 21
Disabled: Free
Fiabilandia
, the amusement park located in Rivazzurra between Rimini and Riccione, is the oldest theme park in Italy. It was built in 1965, and over the years has never stopped expanding, renewing its attractions and inventing new ways to entertain children of all ages.
Compared to other Italian amusement parks, Fiabilandia, as its name implies in Italian, is inspired by the
world of fairy tales
and has remained faithful to its initial audience and is not known for its adrenaline-fuelled rides but rather for its safe and fun rides and attractions. You can visit Fiabilandia from early April to late October, and the season ends on October 31 of each year with a fun-filled
Halloween party
.
Things to do in
Fiabilandia
If you are spending your holidays in Rimini or Riccione with your family, go to Fiabilandia for a day of fun and relaxation. Inside the park there are
food courts and services
for all needs, and at the entrance and all over the park there are members of staff and fun animated characters to give everyone a warm welcome.
The park is surrounded by greenery and is built around Lake
Bernardo
where numerous species of birds spend their summers and build their nests. Visitors can take a beautiful tour of the lake aboard the
Fiaby Boat
. The great castle of
Merlin the Wizard
, which is one of Fiabilandia's most famous attractions, draws the attention of visitors from afar. The inside of the castle can be visited aboard cute little owl-shaped shuttles which will guide you through the wizard's bustling and mysterious workshop.
The
Old West
is the park's largest and most equipped area, which can be reached aboard the Fiabilandia Express train that runs through the entire park starting from the entrance. In this area of the park is located the
Apache Village
and the
Navaho Village
, as well as
Fort Laramie
, which children can have fun exploring, and the superfast Gold Mine rollercoaster.
Once you have thoroughly explored the area, you can take a break and relax in the Old West Saloon while watching amusing themed shows. Several water games have recently been introduced to cool visitors down during hot summer days such as the
Captain Nemo Adventure
, a fun game for all the family. Aboard special submarines equipped with water guns, players will engage in a brave "spray battle" which also involves the spectators.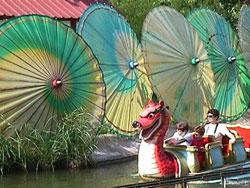 Peter Pan Bay
is a path leading to a mysterious skull-shaped island from which you can spot Captain Hook's ship and look for the characters of this much-loved tale of adventure. Those who want to visit Fiabilandia during the summer will surely want to cool off by taking a dip in the so-called Sea of Frogs, a fantastic swimming pool equipped with rocks, waterfalls and fountains, and many sun beds around it for parents to lay on.
After a nice long swim, visitors can enjoy flying down the Giant Slide.
Shows
Fiabilandia offers visitors a wide variety of attractions ranging from magic shows and storytelling to a
4D cinema
projecting fantastic tales of adventure which will involve your 5 senses.
Do not miss the live shows inspired by Buffalo Bill and Captain Hook.
Around and within Lake
Bernardo
visitors can explore a beautiful area of the park where ducks, pelicans, swans and geese live, as well as Nik the sea lion.
Discover Fiabilandia, the Amusement Park in Rivazzurra where children can have fun in the Magic Village, the sparkling Merry-Go-Round with Horses, or riding on an adorable giant caterpillar in the Valley of the Gnomes. The park is open from March to September. Please visit Fiabilandia's official website for up-to-date opening hours and ticket prices.
For more information:
Via Cardano, 15 – 47900 Rivazzurra di Rimini (RN)
Tel. +39 0541 372064 – Fax +39 0541 378662
fiabilandia@fiabilandia.it
–
www.fiabilandia.net