Castelnuovo Rangone, Modena
Castelnuovo Rangone, Modena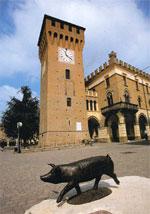 Castelnuovo Rangone is situated about 13 kilometres south east of Modena. The city is named after the Rangoni family, that settled in the feud corresponding to the current municipality in 1391. Because of the rivalry with the nearby city of Castelvetro, Rangone (how it was called in ancient times) was fortified and both a moat and impressive city walls were erected to suit defensive purposes.

The domination of the Rangoni family ceased in 1796, when Feudalism came to an end and French invaders turned "Rangone" into "In Piano".

The main square is encircled by lovely ancient houses, the parish church, the Town Hall and a Medieval tower.

Not to be missed is the small church of St. Maria del Tiepido, situated on the right bank of the stream Tiepido, which is decorated with Romanesque architectural patterns, such as windows provided with double embrasure. It is dedicated to St. Mary Major, that is portrayed in a beautiful XVI-century fresco by an anonymous author cherished inside the building. A tuff-made sarcophagus, the remains of an outstanding mosaic floor decorated with white and black small stones, the archaeological finds which were unearthed near the church and the ruins of some ancient houses bear witness to the Roman domination of the area of Castelnuovo.

The modern area of the city develops beyond the square and is scattered with lush parks, such as the one named after John Lennon and Rio dei Gamberi Park, where the set designer Emanuele Luzzati staged "The Hill of Fairy Tales", which is populated by plenty of fantastic characters. Some corners lurk glass cases containing the most representative passages of famous romances.

Nowadays Castelnuovo Rangone is home to one of the most important food industries dealing with piggery and the processing of pork meat in Europe. The Meat Export Dutch Federation commissioned the building of a bronze statue portraying a pig in the central square of the city. Every year around Christmas the city hosts the traditional Festival of the Stuffed Pig's Trotter, when an enormous pig's trotter is cooked in a big pot (which has been included in the guinness world records for its size) and offered to every participant.
TRAVEL GUIDES EMILIA-ROMAGNA