Castelvetro, Modena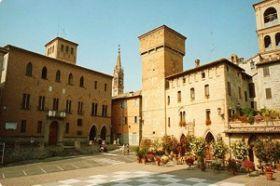 Situated 18 kilometres far from Modena, Castelvetro is surrounded by vineyard-clad hills and a charming landscape developing along the stream Guerro, one of the most important ones in the surrounding area.

It is a territory of tremendous contrasts, encompassing the enormous plain of the river Po, rolling hills and a still unspoiled setting in the foothills of the mountains. Castelvetro boasts an ancient farming tradition which yields excellent local products. It is known as the city of wine, since it is punctuated with lush Lambrusco Grasparossa vineyards producing excellent DOC red and rosè wines.

The archaeological remains which were unearthed in Galassina, a small hamlet near Castelvetro, bear witness to the glorious vicissitudes the city experienced at the time it was a thriving Etruscan village.
Piazza Roma, which is dominated by the Town Hall, Palazzo Rinaldi, the Clock Towers and the Towers of the Prisons, is the core of the town. It was built between 1934 and 1935, when all the buildings situated north of the Castle were demolished to give way to huge tracts of evocative landscape forming an expanse of gentle fields overlooking the valley.

The vineyards where the Grasparossa wine is produced develop along the hills situated south of Castelvetro, which are also rich in inestimable architectural masterpieces. Not to be missed are the buildings situated in the small hamlet of Levizzano, such as its fortified castle, which was the residence of Boniface III, the father of Matilde di Canossa, and was subsequently settled by the Rangoni family from the XIV century up to the Napoleonic Age.

Near the castle is the impressive Torre Matildica, the former residence of the Lord and the symbol of his power, which is now the seat of various associations. The quadrangular base of the tower bears the strain of an impressive structure made up of bricks and stones and the four pitched roof is propped up by small arches decorated with swallow-tailed merlons. Since 1879, the vaults of the fortress have hosted the House of the Lambrusco Wines, a municipal cellar which is open to the general public and gives tourists the possibility to get to know famous local products.

An ancient possession of the Nonantola Abbey, which had already been mentioned with the name of Castrum Vetus in some documents dating back to 988, it was taken over by the municipality of Modena, conquered by the city of Bologna and then acquired by the Rangone family. In 1501 it was heavily damaged by a serious earthquake.
TRAVEL GUIDES EMILIA-ROMAGNA