Sarsina, Sanctuary of St. Vicinio
Sarsina, Sanctuary of St. Vicinio
The small municipality of Sarsina is situated on the slopes of the Apennines which rise 50 kilometres far from Forlì and dominates the underlying valley of the river Savio. Founded between the VI and the IV century BC by the Umbri, in 266 BC it became a Roman confederate and was later turned into a Roman Municipium.

The ancient history of Sarsina has been handed on by archaeologists and researchers who found interesting evidences dating back to the Roman Period and the previous Ages in the surrounding territory. The Archaeological Museum, one of the most important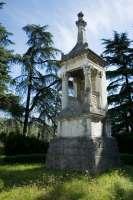 of its kind in Northern Italy, cherishes inestimable finds.

Numerous evidences dating back to the pre-Roman Age bear witness to the exotic cults and Eastern traditions which took place here; among the most representative ones are the statues of Phrygian and Egyptian gods, such as the beautiful statue of Attis, and Greek sculptures depicting Minerva, Apollo and Jupiter.

On the ground floor are interesting finds which were unearthed during the excavation works which took place in the necropolis of Pian di Bezzo, a short distance from Sarsina, such as tombs dating back to the II and I century BC and coeval items. The museum attracts not only reasearchers but also those interested in discovering the inestimable treasure of this small village; among the most interesting finds, not to be missed is the polychromatic mosaic floor dedicated to Dyonisus.

The important role Sarsina played during the Roman Age was not only the result of its strategic position, situated halfway between the Tyrrhenian and the Adriatic Sea, but also of the fact that in 250 BC Titus Maccius Plautus, the most important Latin playwright, was born here. 21 of his plays are still able to entertain a large public for the originality of the cracks they contain. People who decide to visit Sarsina during summer won't miss the opportunity to attend Plautus' Festival; every year a Plautine play inaugurates a cycle of theatrical performances, the only ones in Romagna to be exclusively dedicated to the classics.

Performances take place in the Plautine Arena, an open-air theatre which was built on the sweet slope of the Calbano hill (1 kilometre far from Sarsina). The main square in Sarsina is named after Plautus, while via G.Cappello hosts the so-called "House of Plautus", an impressive building featuring impressive walls dating back to the Roman Age which has been linked with the name of the great playwright since '600.

Sarsina welcomes an increasing number of tourists who flock here to enjoy its relaxing
atmosphere and mild climate and to visit the famous Sanctuary of St. Vicinio, a traditional tourist mecca for pilgrims from all over the world.

The elegant and austere Cathedral of Sarsina, a Roman building dating back to the year 1000, cherishes the iron clerical collar of St. Vicinio, the first bishop of the diocese of Sarsina who lived here between the late III century and the early IV century. The saint is venerated for the thaumaturgic powers he employed to heal possessed people and because he used to tie an iron chain round his neck with an heavy stone while praying.

Millions of pilgrims have flocked to Sarsina for more than seventeen centuries to kiss and put on the miraculous collar and enjoy the blessing of St. Vicinio, thus repelling evil spirits.
The cathedral also hosts a fine XII-century ambo bearing the symbols of the four Evangelists, the X-century marble bas-relief situated under the high altar depicting Jesus Christ between the archangels Michele and Gabriele, and the precious late-Roman font.

From March 2008 to Pentecost 2009, Sarsina hosted the celebrations of the millenary of the Cathedral, featuring both religious and civic ceremonies. Plenty of cultural events give those flocking to Sarsina the possibility to discover the historic and artistic patterns the Cathedral and the whole city cherish.
TRAVEL GUIDES EMILIA-ROMAGNA