Carpi and Lower Po Valley
Carpi and Lower Po Valley
Carpi, the gem of the Renaissance: this was the appellation the German travellers of the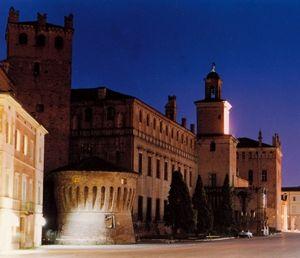 late nineteenth century attributed to the ancient city of the Pio family, with its squares, palaces and churches. Today, Carpi is a thriving industrial and craft centre, its prosperity based on both cultural and commercial exchanges.

It cherishes an inestimable artistic heritage dating back to the Middle Ages and the Renaissance. Carpi is a privileged holiday destination for those who are interested in discovering its squares, churches, palaces and museums.

Situated just in the heart of Emilia-Romagna, in the province of Modena, it has been settled since the VII century: a possession of the Attoni family, in 1115 Matilde left it to the church and since then it had been disputed by numerous lords. Under the rule of the Pio family, between 1319 and 1525, it wielded great power and underwent deep renovation works and extensive urban development. Carpi experienced utmost splendour under the domination of Alberto III, a great patron of arts who gave the city a Renaissance layout and architectural style; in 1525 the city was finally taken over by the Este family.

Not to be missed is Piazza dei Martiri, one of the largest in the region, the seat of the main civic and religious buildings in the city. The western part of the square hosts the so-called Palazzata and "Portico Lungo", a 212-metre-long portico featuring 52 arches; south is the portico of "Loggia del grano", while north stands the facade of the Baroque Cathedral of St. Maria Assunta.

The original core around which the first settlements developed is Piazzale re Astolfo, which is home to the most ancient buildings of the city, such as Palazzo del Pio, Castelvecchio and the eighteenth-century Parish Church of St. Maria in Castello, which contains outstanding Byzantine frescos dating back to the XIII and the XV centuries. The former residence of the Pio family, Palazzo Pio stands east in the square, with its circular Bulwark of Uccelliera (1480), the Tower of Passerino Bonacolsi, which dates back to 1320, the seventeenth-century Clock Tower and inner courtyard realized according to Bramante's architectural style. The upper floors host the Monumental Hall and numerous decorated rooms, such as the Mori Hall, the Room of Oven, the Room of Triumphs, the Room of Love, the Room of Passerino Tower and the Ornated Room; Palazzo Pio is also the seat of the Museum of the Italian Xylography and the Museum to the Political and Racial Deportee, the latter being designed by Ludovico Belgioioso.

Carpi is an artistic and cultural city situated few kilometres far from Modena on the way to the Brenner Pass; situated just in the heart of Emilia-Romagna, it still retains ancient traditions and a lively attitude and is able to attract tourists with its tasty specialities and genuine local staples.
TRAVEL GUIDES EMILIA-ROMAGNA