Modena's Ghirlandina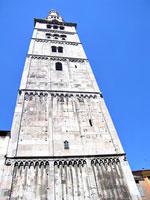 Ghirlandina is the popular name which refers to the bell tower of the Duomo of Modena, an 86,12-metre-high tower which gazes across the city from on high. Its elevation, which bears witness to the rivalry between the cities of Modena and Bologna, makes it the symbol of the city. In the XIV century, the original Tower of St. Geminiano was provided with an octogonal spire which was aimed at making it taller than the towers of the nearby city of Bologna.

Ghirlandina is also dubbed Tower of St. Geminiano to celebrate the patron saint of the city, St. Geminano, whose mortal remains have been cherished in the small temple known as the House of St. Geminiano since 1099. The first five storeys of Ghirlandina, provided with a squared plan, were realized in a Romanesque style and date back to 1179, while the octogonal plan and spire feature a wide array of Gothic elements.

The octogonal spire is embellished by two marble banisters which encircle it as if they were garlands, thus giving it the name of Ghirlandina. Both the spire and the last storey were realized according to a project by Arrigo Campione, one of the great "Masters" who restored the cathedral between the thirteenth and the fifteenth century decorating it with outstanding Gothic elements.

Every storey houses its own hall: the one situated on the fifth floor is known as the Hall of Torresani and hosts sculptured capitals of great value, such as the Capital of David and the Capital of Judges. Every storey is embellished by decorative small arches featuring both Romanesque and Gothic elements and by fantastic patterns decorating small brackets which drew inspiration from the typical iconography of Medieval bestiaries.
TRAVEL GUIDES EMILIA-ROMAGNA