Room of the tricolour, Museum of the Tricolour
Room of the tricolour, Museum of the Tricolour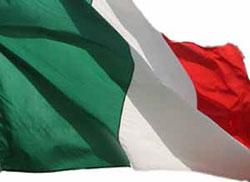 Tourists who spend some days in Reggio Emilia will get plenty of historical references to the tricolour, which originated here thanks to the revolutionary ideas of its inhabitants.

To gain information about the history of the Italian flag, tourists should visit the Room of the Tricolour, the current council chamber of Reggio Emilia.

The building, which was designed by Lodovico Bolognini as the seat of the archives of the Este Dukedom in the XVIII century, was the seat of the first meeting of the Chamber of Deputies of the Cispadane Republic, who chose the tricolour as its symbol on January 7, 1797.

When the French army led by Napoleon had entered Italy in May of the previous year, people had been roused from their revolutionary ideas up to such an extent that the ancient system of small States which had previously applied all over Italy no longer existed. The democratic ideas the French Republic promoted set an example for the rising Jacobine republics and boosted the Italian spirit of emulation; as a result, many of the traditional unitary symbols of the French Republic, among which the tricolour, were adopted in Italy too.

The choice of the colours is connected with the Lombard tradition; white and red were the colours of Milan's ancient municipal coat of arms, while green was the colour of Milan's Civic Guard uniforms. Italians prefer the romantic interpretation provided by the poet Giosuè Carducci during the celebration of the first centenary of the Tricolour in Reggio Emilia, according to which green is "April of the valleys", white "the snows of the Alps" and red "the fire of the volcanos". The first official Italian tricolour was a horizontal tricolour with red, white and green stripes, while the version with parallel stripes was adopted in the following year by the Great Council of the Cisalpine Republic pursuant to decree dated May 11, 1798. Over the following four decades different colours and layouts were chosen up to 1848, when the current Italian flag was finally adopted.

In 1861, a new version of the flag was adopted: the Italian tricolour with Savoy Royal House's coat of arms in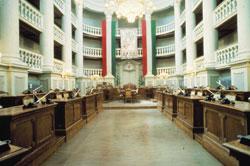 the white stripe was declared the national flag of the newly-formed Kingdom of Italy. The Italian tricolour bearing the armorial bearings of the former Royal House of Savoy was the national flag until the birth of the Italian Republic on June 2, 1946.

The symbol of Italy, Reggio Emilia hosts the interesting Museum of the Tricolour, which cherishes relevant documents and illustrates the history of the Italian flag. The Museum of the Tricolour gives visitors the possibility to undertake an absorbing educational tour across the history of the Italian flag.

It is divided into four sections which correspond to four important historic events of the history of our Republic: the Reggiana Republic, the Cispadane Republic, the Cisalpine Republic and the Restoration. All rooms cherish documents, memorabilia, weapons and further interesting items connected with the development of the symbol of Italy, which took place when the country was fighting against foreign invaders and struggling for independence.

Every year on January 7, the day when the tricolour was adopted, Reggio Emilia celebrates the fundamental role the symbol of the first revolutionary Italian regions played all over the country.
TRAVEL GUIDES EMILIA-ROMAGNA