Visiting Lucca
Lucca, a provincial capital of Tuscany, is also known as the "city of one hundred churches" for the numerous religious buildings dating back to different ages which are cherished by its beautiful old town.

The well-preserved ancient city walls dating back to the XV-XVII century, which have been turned into a pedestrian promenade since the nineteenth century, surround an outstanding architectural, artistic and cultural heritage featuring impressive towers, bell towers, monumental Renaissance palaces and beautiful churches.

The tour could start from the southern Viale delle Mura Urbane and go on up to the ancient heart of the city life, Piazza San Martino, which is dominated by the impressive marble Duomo.

The building was commissioned by Saint Frediano, the bishop of Lucca who lived here in the VI century, and was repeatedly remodelled up to the XII century, when its facade was completed and the Chapel of the Sanctuary started to be concluded in 1637.

The lovers of Medieval and Renaissance art won't miss the opportunity to visit the interior of the church, which cherishes precious paintings by Domenico Ghirlandaio and Tintoretto, sculptures by Matteo Civitali and Jacopo della Quercia, a XI-century wooden crucifix and the famous Deposition by Nicola Pisano, the latter dating back to 1260. Outside, next to the impressive bell tower, the thirteenth-century Museum of the Building of the Duomo is embellished by arches and triple lancet windows.

Strolling along via del Battistero, where antiques exhibitions regularly take place, it is possible to reach Piazza San Michele, a lively gathering place which is situated just in the heart of the area which was once occupied by the Roman Forum. The square is dominated by ancient thirteenth- and fourteenth-century houses and the impressive marble Church of St. Michele in Foro, which features an interesting combination of architectural patterns from both Pisa and Lucca.

A side street leads to the narrow Via Fillungo, which was the most important street during the Middle Ages and which now connects the main business districts of the city. Heading north along the charming Via Fillungo, it is possible to admire ancient houses and towers.

The last stretch of the itinerary leads to two of the most important cultural sights Lucca cherishes. On the left is Piazza San Frediano, which is dominated by the Church of St. Frediano which was built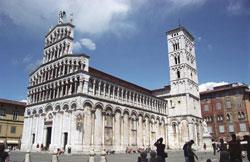 between the XII and the XIII century. During the night of September 13, the procession to the Saint Cross leaves from here.

Both the outer structure and the inner masterpieces make the Basilica a privileged tourist destination. The excavations carried out here unearthed an ancient sacred building dating back to the period when Saint Frediano lived (just like the Duomo). The mortal remains of the famous bishop from Lucca, who died in 588, are cherished in the crypt of this church.

Along the other side of Via Fillungo, just in front of Piazza San Frediano, is the famous Piazza dell'Anfiteatro, which was built according to the plan of the ancient Roman amphitheatre dating back to the I century BC, which currently appears as a large elliptical square surrounded by shops and ancient houses which still follow the perimeter of the amphitheatre.

It is possible to enter the square through four vaulted doors which are situated where the ancient gates stood. Piazza dell'Anfiteatro will give those who visit Lucca on the occasion of the festival of the patron saint St. Zita, on April 27, the possibility to enjoy a fascinating and colourful atmosphere livened up by the traditional flower market mounted here.

Many ancient aristocratic residences have recently been turned into important museums and civic buildings. Not to be missed is the seventeenth-century Palazzo Mansi, which hosts the rich collection of the National Art Gallery, which gathers prestigious Italian and foreign works of art which were realized between the Renaissance and the eigtheenth century.


Another outstanding building situated just in the heart of the city centre is Villa Guinigi, which was commissioned in 1413 by the Lord of Lucca, Paolo Guinigi, in the traditional late-Gothic style from Lucca.

Here is the National Museum of Villa Guinigi, which cherishes precious archaeological finds, Roman evidences, paintings and sculptures which were realized by great artists and craftsmen belonging to different ages. Next to the villa is Guinigi Tower, one of the most representative symbols of the city.

Lucca offers visitors the possibility to discover plenty of fascinating spots which bear witness to the historic and cultural vicissitudes the city experienced. Not to be missed is contemporary culture, since Lucca is a modern city which hosts many internationally renowned events.

Among the most important ones are Lucca Comics, the most important comics fair in Italy which takes place between October and November, the Summerfestival, the music event which takes place in July in Piazza Napoleone and attracts artists from all over the world, and Lucca Digital Photo Fest, an exhibition of photojournalism which is staged here between November and December.