Monte Argentario and Giglio Island
Mount Argentario, a wonderful promontory overlooking the Tyrrhenian Sea, is one of the most appreciated seaside resorts in Tuscany. It belongs to the province of Grosseto, together with Giglio and Giannutri Islands. Mount Argentario was an island until the early 1700s, when the shallow waters separating it from the mainland began to silt up, creating three narrow spits of land which originated from the deposit of the drifts carried from the sea and the river Albegna.

Those who visit Mount Argentario will enjoy breathtaking views from the top of Punta Telegrafo, which overlooks the whole of the surrounding territory featuring outstanding coastal areas, fascinating islands and the lush Mediterranean Scrub of the hinterland. The indented coastline is punctuated with small pebbly gulfs and intimate coves and inlets, a real paradise for the lovers of nature.

At the opposite ends of the Argentario peninsula, north-west and south-east respectively, are the two main centres of the area, Porto Santo Stefano and Porto Ercole. Porto Santo Stefano offers guests the possibility to visit beautiful country houses, make exciting horse rides, explore the rich shoal and admire the impressive Spanish Fortress, an imposing building which was erected to suit defensive purposes and which now hosts the permanent exhibition "Submerged Memories", which cherishes the precious finds discovered in the waters surrounding the promontory.

The sea front hosts the Educational Centre of Marine Biology, as well as the main landing places of the numerous ferry boats which connect Porto Santo Stefano with Giglio and Giannutri Islands. Tourists who flock here on August 15 won't miss the opportunity to attend the Seafaring Palio, during which the four districts of the town challenge each other in an exciting canoeing competition.

Even more charming is the small village of Porto Ercole, which is connected with Porto Santo Stefano through a 25-kilometre-long narrow road which skirts the promontory and is dotted with Spanish towers and Renaissance fortresses, such as the impressive Forte Stella or Forte Santa Caterina. The gate surmounted by the Clock Tower is the main access to the old town of Porto Ercole, which is wholly encircled by impressive city walls which were erected by people from Siena in the Renaissance.

Porto Ercole offers those flocking to the Argentario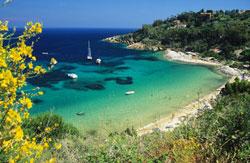 promontory plenty of attractions, such as specialized diving centres and the lush gardens of Villa Corsini, where visitors can admire rare tropical and subtropical plants. Tourists can spend rainy days visiting the monuments of the city, including the sixteenth-century Palazzo dei Governanti Spagnoli, the impressive Fortress which dominates the city and the Church of St. Erasmo, which is regarded to be the shrine of Caravaggio's mortal remains.

In front of Mount Argentario is the wonderful Giglio Island, a privileged holiday destination for the lovers of compelling beaches, unspoiled shoal, wild landscapes and rough footpaths. Regular ferry boats to Giglio Island leave from Porto Santo Stefano; those who sail without their car can take advantage of regular buses which run across the island all day long.

The charming harbour of Giglio Island, which was built by the Romans, is surrounded by colourful houses overlooking the sea and is the heart of the city life and the related tourist activities. To the left are the Saracen Tower, which dates back to 1596, and the Saracen Cove, whose waters cherish the remains of an impressive Roman Villa dating back to the I-II century AD.

Other impressive city walls situated on the top of the town surround the area of Giglio Castello, which hosts the XII-century aristocratic residence which was built by people from Pisa and is now the seat of the Town Hall: its well-preserved interiors are worth a visit. Dominated by the Aldobrandesca Fortress, Giglio Castello also hosts the fifteenth-century Church of St. Pietro Apostolo. Visitors who spend some days in Giglio Island won't miss the opportunity to take part in the numerous wine-tasting tours which are organized across the numerous cellars where the famous amber Ansonaco wine is produced and then stored.

The most appreciated part of Giglio Island is Giglio Campese, a fairy-tale bay bounded by the Stack on one side and the impressive Medici Tower on the other. The strong winds blowing from the south make Campese one of the most appreciated beaches for surfers and sailors.

Part of the territory of Giglio Island is included in the protected area of the National Park of the Tuscan Archipelago, together with the nearby Giannutri and the wild and uninhabited island of Montecristo.

Settled by only a few rich owners, Giannutri is a privileged excursion destination. Also known as the Island of the Gulls for the numerous yellow-legged gulls which nest here, it is the southernmost island of the Tuscan archipelago and is characterized by a peculiar half-moon shape. Every year, skilled divers flock to Giannutri to admire its unspoiled underwater fauna and flora and the numerous historic wrecks cherished by the deep and crystal-clear waters of its coves.