Viareggio's Carnival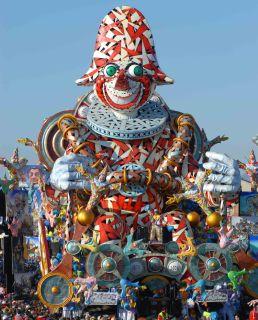 Viareggio's Carnival
is an internationally renowned Italian event which turns the city into an open-air theatre for five consecutive Sundays between January and February.
Those interested in spending a winter weekend amidst colours, music and absorbing activities can head to Viareggio and enjoy enchanting fairy-tale settings. Because of the large numbers of visitors who flocked here during the previous editions (over 250.000), it is advisable to book in advance.
The most appreciated attraction is the great
parade of floats and masks
which takes place along the city's sea front. This tradition dates back to 1873, when some exponents of the rich middle classes decided to disguise themselves to protest against high taxes.
Over the course of the years, this peculiar way of showing personal opinions has improved more and more; still today, the papier-maché dolls which dominate the colourful floats draw inspiration from
important politicians
, showmen and celebrities. Since the late '800, the event has been livened up by beautiful
triumphal floats
which are realized by acclaimed international artists.
Those flocking to Viareggio on the occasion of the Carnival will have the possibility to attend funny street celebrations and to take part in the amazing
parties
organized in Viareggio's best historical clubs.
Cafè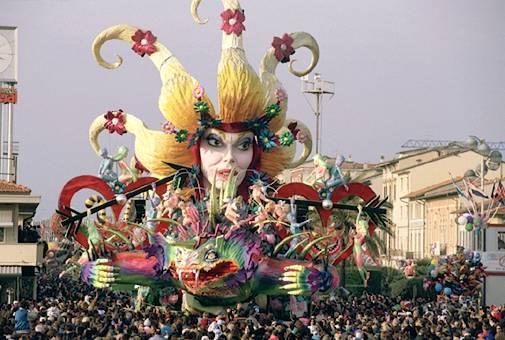 Chantant in Salone Margherita, Principe di Piemonte Congress Centre and some of the most beautiful Art-Nouveau villas which flank Viareggio's sea front house amazing
masked balls
and
music evenings
which last till dawn. During the Carnival period, Viareggio is also home to the
World Youth Football Championship,
which gathers under-21 athletes from all over Italy and abroad. The whole city is livened up by amazing
concerts, art exhibitions
, the election of
Miss Italian Carnivals
, outstanding firework displays and absorbing
folk festivals
which give visitors the possibility to dance and taste genuine traditional specialities from Viareggio.
Those interested in gaining further information on Viareggio's Carnival tradition can visit the so-called
Citadel of Carnival,
the point of departure of the ceremony, where skilled craftsmen and artists work all year round to build wonderful floats.
Not be missed is the visit of the
Museum of Papier-maché,
which is hosted inside the Citadel and displays documents, drawings, models and historical masks which make Viareggio's Carnival one of the most appreciated events of the year.