Sphaeristerium of Macerata
Sphaeristerium of Macerata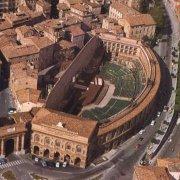 The Sphaeristerium of Macerata, which was given to the city by some local well-off families, was officially inaugurated in 1829. Built in a late Neoclassical style by the popular architect Ireneo Aleandri, it was designed as a courtfield for the competitions of the so-called pallone col bracciale and was also used for other shows, such as bull fights.

The strait side of the arena is a 18-metre-high and 88-metre long wall, along with a line of arches separated by 56 Doric columns carrying a double row of boxes. The huge arena (90x36 m) features a circular segment which inspired its denomination (Sphaeristerium).
The monumental arena had been used for over a century to host all kinds of sporting events, as well as occasional theathrical performances, and from about 1921 opera began to be put on here. It has rather a strange shape for musical performances, but the acoustic is surprisingly good.

In 1921, as the first presentation of what would become Macerata's Opera Festival, Aida by Giuseppe Verdi was staged. Aida met with great acclaim when it opened and was repeated for 17 consecutive evenings gathering 70.000 spectators. It still continues to be a staple of the standard operatic repertoire. The opera season has been successful since the Thirties, even though the war and the financial difficulties Italy had to face in the following years prevented it to be carried out regularly.

In the Sixties, when the arena opened again, Macerata began to host first-class events. The stage of the local Sphaeristerium has hosted great plays and composers since 1967, to such an extent that the opera season of the Sphaeristerium was incorporated to the greatest international circuits, along with the Italian stages of Caracalla and Verona. Among the most famous plays which were performed here were Otello by Giuseppe Verdi with Del Monaco and Protti, Madame Butterfly by Giacomo Puccini with Antonietta Stella and Nicola Ruggeri and la Bohème, which was staged by Ken Russell in 1984. Among the most famous personalities who performed here were Luciano Pavarotti, Placido Domingo, Monserrat Caballè, Marilyn Horne, Josè Carreras and the dancers Rudolf Nureyev and Carla Fracci.

The music culture which has developed around the Sphaeristerium of Macerata also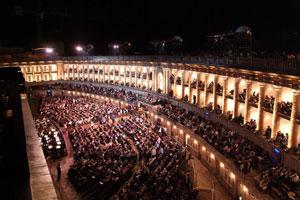 incorporated the jazz tradition of the city, which has developed since the first post-war period and has been consecrated by the "International Jazz Festival", the summer event which took place at the Sphaeristerium from 1971 to 1977 and from 1986 to 1994.

During those years the arena of Macerata hosted the greatest jazz personalities, such as Keith Jarrett, Sonny Stitt, Miles Devis, Joe Venuti, B.B.King, Ray Charles and Sarah Vaughan.

In the Nineties, the said event turned into "Musicultura Festival", one of the most important reviews featuring an outstanding combination of different styles which every June gathers poets, writers and music players, as well as large numbers of visitors and media.

Since 2006, under the artistic direction of Pier Luigi Pizzi, the summer opera review has been renamed "Sferisterio Opera Festival" and has included cultural meetings, debates, literary conferences and many more. Such an event is an outstanding opportunity for both opera lovers and curious people.
TRAVEL GUIDES THE MARCHES