Mount Conero and Conero Riviera
Mount Conero and Conero Riviera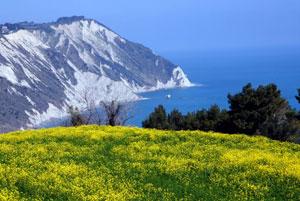 The promontory of Mount Conero, which overlooks the famous seaside resorts of Numana and Sirolo situated south of Ancona, is home to the beautiful Park of Mount Conero.

The Park of Mount Conero offers tourists the possibility to explore outstanding naturalistic itineraries, make long cycle and trekking excursions and enjoy a crystal-clear sea. It stands out as a real paradise for the lovers of nature and as an inestimable natural resource, featuring a third of the whole regional flora heritage.

The most widespread vegetal species is the Mediterranean scrub, characterized by both deciduous and evergreen sclerophiles, but the area boasts more than 1000 specimen of plants. The park also hosts different species of animals, especially birds, such as Mediterranean gulls, buzzards, cormorants and hawks, and 20 species of mammals, such as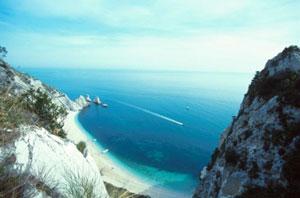 foxes, badgers, hedgehogs and weasels. Not to be missed are rare amphibians and reptiles.

The Park of Mount Conero features different landscapes ranging from compelling beaches to tilled lands, from sweet hills to coastal cliffs, from thick woods to enchanting lakes and streams. A place of great charm and variety, it has a rich diversity of attractions.

Not to be missed are the charming landscapes which surround the area where the promontory drops sheer to the sea, featuring calcareous cliffs high up above this crystal-clear stretch of the Adriatic Sea. Impressive cliffs and rocky coves characterize the whole of the coast situated on the slopes of Mount Conero.

Sirolo, a charming Medieval village, is one of the most beautiful seaside resorts of the Conero Peninsula together with Numana and Portonovo, and boasts white pebbly beaches and crystal-clear waters which are a real paradise for the lovers of sea and diving.

Not to be missed is the glorious countryside which develops towards the hinterland and covers almost half of the territory of the Park of Mount Conero; it features ancient olive groves, large fields of wheat and sunflowers and fine vineyards which produce the famous Rosso Conero red wine, one of the most important local products along with oil and honey.
TRAVEL GUIDES THE MARCHES