Holidays in Senigallia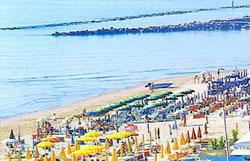 Senigallia is an enchanting seaside resort situated in the Marches, in the province of Ancona, which is highly appreciated for its compelling beaches of fine sand and its charming old town. The keys to Senigallia's success are its alluring sea and beaches.

Beaches in Senigallia offer plenty of fun and relaxing opportunities. Bathing establishments host modern sports equipments and facilities which give tourists the possibility to play any activity: beach volley, beach tennis, ping-pong, bocce and many more.

Walking down the sea front, it is possible to admire the long golden beach of fine sand, the so-called "velvet beach". This breathtaking view is crowned by a beguiling, crystal-clear sea.

The city was repeatedly awarded the Blue Flag recognition, which bears witness to the high-quality standards of accommodation facilities and tourist hospitality: guesthouses and hotels in Senigallia are provided with special agreements with the nearby bathing establishments and are aimed at welcoming families and entertaining children with utmost warmth and kindness. In the summertime, hotels situated a short distance from the sea, guesthouses provided with special agreements with the nearby bathing establishments and the most famous clubs of the city offer guests special packages and advantageous promotions.

The local authorities willingly take part, arranging special shows and events all summer long, such as the traditional firework displays on the beach and the Fair of St. Augustine, which takes place in August and attracts more than 500 exhibitors.

Visitors here won't miss the opportunity to take part in the famous Summer Jamboree, the traditional rockabilly meeting which has attracted the lovers of the music genre for a long time, gathering concerts by famous bands, vintage street markets, hundreds of motorcycles and cars dating back to the 40s-50s and thousands of people in period costumes.

Like other European cities, every year on June 21 Senigallia inaugurates the Festival of Music, which gathers plenty of different music genres ranging from jazz to rock and pop to be enjoyed walking down the streets of the city centre and visiting some characteristic spots. Pane Nostrum is an appreciated food and wine festival, the International bread festival. Squares in Senigallia turn into open-air ovens and the city gathers the best bread-making traditions from all over Italy and abroad.

The Municipality of Senigallia is aware of the potentials the city boasts and tries to promote annual tourism. Even after the end of summer, Senigallia attracts plenty of tourists, offering them the opportunity to visit squares, monuments and museums and to take part in a wide array of cultural events. Senigallia also features utmost kindness and hospitality, high-quality services and facilities and interesting winter events. At New Year's Eve Senigallia livens up and welcomes tourists with outstanding lights, picturesque street markets and a cheerful atmosphere.
TRAVEL GUIDES THE MARCHES