Frosinone's natural reserves and parks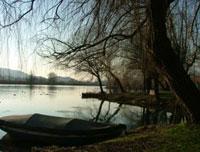 The natural landscape of the Province of Frosinone gathers a remarkably wide array of different habitats and environmental settings, thus standing out as the ideal holiday destination for those looking for a closer touch with nature and exciting open-air activities amidst unspoilt landscapes.

Among the protected areas of Ciociaria, not to be missed is the Regional Natural Reserve Lake Posta Fibreno, situated just in the heart of the valley of the river Liri, which boasts unspoilt landscapes and charming natural oases surrounded by gentle limestone hills and dolines. The zig-zag shaped Lake Posta Fibreno can be crossed on board typical wooden boats, the so-called nàue, which are built according to the model of ancient homonymous boats. Charming boat excursions give tourists the possibility to admire rare species of fish and reptiles.

The waters which feed Lake Posta Fibreno flow along phreatic surfaces and then come out at a temperature of about 11°C both in summer and in winter. This phenomenon contributes to the proliferation of the different species of plants and animals which populate the lake and the surrounding plain.

A short distance from the Natural Reserve of Lake Posta Fibreno is the so-called Liri Island. The river Liri, which crosses the centre of the Province of Frosinone, divides into two arms, thus creating a small, charming island. The Liri Island is a fascinating holiday destination which attracts large numbers of tourists who flock here to admire the enchanting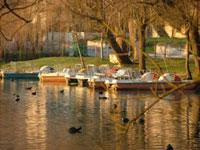 Cascata Grande (Big Waterfall), which originates from the left arm of the river and flows down for about 27 metres just in the heart of the old town.
Heading south east along the course of the river Liri, tourists will have the possibility to reach another fascinating natural oasis, the Natural Reserve of the ancient cities of Fregellae, Fabrateria Nova and Lake San Giovanni Incarico.

Situated on the slopes of Ausoni and Aurunci mountains, it gathers rare species of plants and animals which populate the thick surrounding wood and the artificial basin of Lake San Giovanni Incarico, which originated from the barrage of the river Liri. It hosts white storks, great egrets, little egrets, falcons, dragonflies, beetles and butterflies. Apart from beds of reeds, poplars, oaks and willow trees, the Natural Reserve also includes the territories were the ancient cities of Fregellae and Fabrateria Nova were founded. The impressive remains of these mythical cities merge with the natural landscape, thus giving the surrounding area utmost profusion and fascination.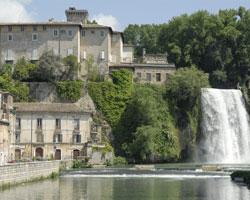 Further down is Vallecorsa, which hosts the Natural Monument of Acquaviva, that is to say the ruins of the ancient castle of Acquaviva which is situated on the top of a sweet hill overlooking the sea. Those flocking to Vallecorsa will have the possibility to admire enchanting natural landscapes complemented by outstanding public works.

The whole area was appointed Latium's Natural Monument in 2004. The remains of the village of Acquaviva, which was
abandoned in 1540 after the Saracen attack, are surrounded by a thick wood carpeted with scented wild orchids. The nearby Mount Calvo hosts the so-called Cave of the Hunter, which is scattered with fascinating stalactites and stalagmites and interesting archaeological finds which are now hosted inside the Museum of Vallecorsa.

Not to be missed are the Caves of Pastena too, which have been an appreciated holiday destination since 1927. The exciting itinerary illustrated by skilled guides begins with the visit of the underground river and leads tourists along the footpaths which cross the underground caves amidst colourful stalactites and stalagmites, small lakes and fascinating waterfalls.

Halfway between Frosinone and Fiuggi is Lake Canterno, the largest karstic lake in Latium, which is now used to produce hydroelectric energy. It is surrounded by a thick wood of oaks and broad-leaved trees populated by rare species of animals, such as grey herons, purple herons, llittle egrets and common moorhens.