Varese's Sacro Monte and Regional Park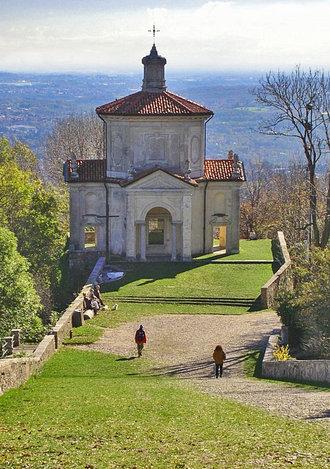 Varese's Sacro Monte, one of the nine religious complexes situated on the slopes of the Alps of Piedmont and Lombardy which are included in the list of UNESCO World Heritage Sites, is a religious itinerary dedicated to the Mysteries of the Rosary which gathers 14 richly decorated chapels. The 2-kilometre-long itinerary, which develops across narrow streets paved with cobblestones, attracts both believers and the lovers of art and open-air excursions. Varese's Sacro Monte and the surrounding Campo dei Fiori Regional Park are traditional tourist meccas for those flocking to Varese, since they are situated within a short driving distance from the city centre. The Sacro Monte is easily accessible by car or through a picturesque cableway which leaves from Vellone.

The tradition of building Sacri Monti has spread across Italy since 1400; built for religious purposes, these complexes were erected on the slopes of impressive panoramic peaks and embellished with richly decorated churches and chapels dedicated to Jesus Christ, the Virgin and the Saints. They were mainly erected in places which had been famous before for their religious pilgrimages and miracles.

Varese's Sacro Monte was built between 1604 and 1698 on the top of Mount Orona, which is also known as Mount Velate. It is a 800-metre-high peak belonging to Campo dei Fiori Massif which is situated on the slopes of the Alps of Varese and has been included in the protected territory of the homonymous Regional Park since 1984. A stunning natural landscape gathering thick woods of beech-trees, chestnut trees and hazels surrounds the small village of Santa Maria del Monte, which was founded in the Middle Ages around the Church of Santa Maria del Monte and the Covent of the Romite Ambrosiane nuns, the latter being established in 1474. It is said that the point of arrival of the itinerary, which now hosts a Sanctuary dedicated to the Virgin, had been dominated by a chapel commissioned by St. Ambrogio since the IV century. In the XI century, a Romanesque Sanctuary was built here and soon started attracting large numbers of Italian and Swiss tourists, while the current structure was completely renovated in 1500.

The building of the Sacro Monte of the Rosary was commissioned by Sister Maria Tecla Cid and the Capuchin Friar G.Battista Aguggiari and financed by the wealthiest Lombard families. Works were coordinated by the architect Giuseppe Bernascone from Varese, who gave the whole complex a late Mannerist style. Impressive triumphal arches and fountains, which are typical seventeenth-century architectural patterns from Milan, separate five groups of chapels. Bernascone gave every chapel a different shape in order to symbolize the Mysteries of the Rosary and perfectly combined them with the surrounding landscape. Some chapels are surrounded by panoramic open galleries which give visitors the possibility to enjoy breathtaking views over the underlying landscape.

Suggested by Cardinal Federico Borromeo from Milan, the iconographies of Varese's Sacro Monte are able to catch the attention of large numbers of visitors. Acclaimed Lombard artists, such as Morazzone, Antonio Busca, the Lampugnani brothers, Carlo Francesco Nuvolone, the Prestinari brothers, Giovanni Ghisolfi, Martino Retti, Dionigi Bussola and Francesco Silva, helped Bernascone develop his artistic project which was aimed at interpreting the Counter-Reformation ideas of Cardinal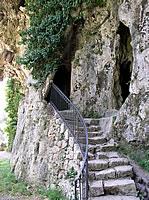 Borromeo while affecting believers deeply, as stated by the Catholic Church during the Council of Trent.

The Sanctuary too, which is the fifteenth and final stopover of the itinerary, was built jointly by many artists from Milan, such as the Master of Trognano, who carved the wooden panels of the high altar, and Andrea from Milan, who sculptured a beautiful Adoration of the Magi. Art lovers flocking to Varese won't miss the opportunity to visit the nearby Museum Baroffio and of the Sanctuary of the Sacro Monte, which gathers prestigious works of sacred art and precious liturgical furnishings.

Those flocking to Varese's Sacro Monte will have the opportunity to admire the natural beauties of Campo dei Fiori Regional Park. Operated by several consortia of municipalities situated in different mountain areas, it develops across a varied territory which is mainly made up of limestone rocks, natural caves, such as the Caves of Valganna and the nearby Gorges of Valganna, small lakes, ponds and waterfalls, such as Pesegh Waterfall. In spring, the surrounding wide expanses of grass are fully carpeted with different varieties of wild orchis. Those looking for exciting excursions to the mountaintop, the 1226-metre-high Punta Paradiso, will have the opportunity to visit the "Citadel of Natural Sciences", which gathers a botanical garden, an astronomical observatory, several weather stations and further interesting laboratories.