Pavia's Charterhouse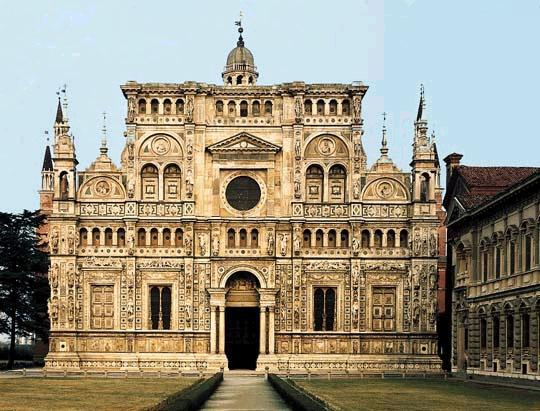 Pavia's Charterhouse is the pinnacle of Late Gothic architecture in Lombardy, a gloriously decorated Carthusian monastery built over 200 years which still attracts large numbers of art and architecture lovers flocking to Pavia.

Conceived as a monument to Gian Galeazzo Visconti, the powerful ruler from Milan who founded the complex in 1396, this shrine was realized through innovative techniques of relief work and multicoloured decoration.

In the late fourteenth century, when Gian Galeazzo Visconti commissioned the building of the charterhouse, the place where it had to be erected was connected with Pavia's Visconti Castle through a large park, the remains of which can still be observed. The Duke himself founded the complex in 1396, but the monastery was built over 200 years. When the heirs of Gian Galeazzo died, the project started being financed by the powerful Sforza Family from Milan.

During the fifteenth and sixteenth century, the building of Pavia's Charterhouse involved some of the most famous artists from both northern and central Italy , even if the huge complex of the church was concluded in the seventeenth century. As a result, the Charterhouse is characterized by an outstanding mixture of different styles and techniques which were all employed to build and decorate the complex and its church.

The church is dominated by a sumptuous facade realized according to the style of Bramante. The 15th-century lower part of the facade is profusely decorated with statues and carvings of Roman emperors, saints, apostles and propeths. The upper part dates from 1500.

The interior of the Charterhouse cherishes an inestimable artistic heritage. The side chapels and choir stalls are richly decorated with marble, stained-glass windows, trompe l'oeil frescos, ornate altars and altarpieces and fine terracotta ornamentation, and deeply carved and inlaid with intricate marquetry. The striking portrait of Christ is one of several frescos by Bergognone in the transept and chapels, together with an altar painting of St.Ambrogio and a painting of St. Siro, which were both realized between 1490 and 1491. The six-panel altarpiece by Perugino was painted in 1496, but only one panel, that depicting God the Father, retains its original patterns. Not to be missed are further paintings by Morazzone, Cerano and Guercino, and the frescos of the choir by Daniele Crespi. Outstanding points of interest are the tombs of Gian Galeazzo Visconti, Ludovico il Moro and Beatrice d'Este. The realistic marble portrait of Ludovico and his child bride was realized by Cristoforo Solari. The Charterhouse was embellished by many other monuments and works of art; some of them are currently hosted inside other European monuments, while other vanished.

An elegant portal sculptured by the Mantegazza brothers and Giovanni Antonio Amadeo leads to the small cloister, which once was the Carthusian monks' major gathering place.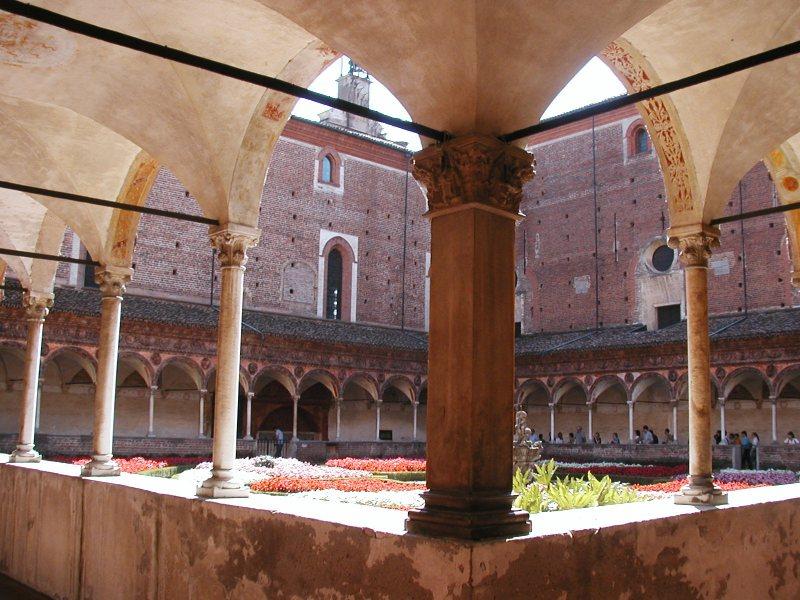 A row of porticoes distributed in four sides connects the complex's different areas, that is to say the church, the library, the chapterhouse and the refectory. This delightful arcaded cloister, with fine terracotta ornamentation and frescoes by Daniele Crespi, contains a small garden, planted in formal design.
The great cloister is reached through the small cloister. It is framed on three sides by the two-storey monks' cells, each backed by a small garden; not to be missed are the refectory and the New Sacristy, which are both painted with colourful ceiling frescoes dating back to 1500, and the Guest Quarters or Ducal Palace, which are decorated with paintings by Vincenzo and Bernardino Campi, Bergognone, Bernardino Luini and Bartolomeo Montagna.

The Charterhouse is still home to Carthusian monks, who celebrate mass and manage the building and are always available to lead tourists across its wonderful monuments and works of art.

For further information:

Tel: +39 0382 936911
Fax: +39 0382 933128