REQUEST A QUOTATION
Hotels for young people in Cattolica: unforgettable vacations with your friends
The seaside promenade, the area of the new dockyard, the Darsena, and the centre of Cattolica are all places which young people love and come back to, often in the summer, for its pubs, clubs and discos in which to spend an evening amongst friends. The town offers a variety of choices, also for dancing barefoot on the sand. If this is the kind of vacation you have in mind, it is advisable to choose a hotel which allows you to enjoy all the fun and night life without a problem.
Hotels for young people in Cattolica have flexible hours for breakfast and meals, usually delayed, inexpensive rates also in B&Bs if you want to spend the day out, or handy lunch bags to take to the beach with you so you don't miss even an hour of sun and fun. Many hotels for young people also have arrangements with the theme parks, offering discounts and free entrance to discos and in general keep all rates low so they are accessible also to students.
HOTEL FOR YOUNG PEOPLE IN CATTOLICA
Order by:
Show on the map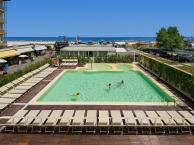 Prices: n.d.
Cattolica Family Resort
Via Facchini, 12 - Cattolica
Cattolica Family Resort is located in Cattolica, a beautiful seaside resort on the Riviera of the Romagna. The hotel is situated in an excellent location and is equipped with private parking and a...