REQUEST A QUOTATION
Hotels for children in Cattolica: come and have fun with us
Cattolica is amongst the seaside resorts preferred by families because it offers facilities and accommodation tailored for children. In the hotels in Cattolica the needs of the smallest children are always a priority because only by offering services and comfort a vacation can be happy and relaxing for everyone, including the parents.
Also packing your bags will be easier, knowing that most of the necessary equipment will be made available to you by the hotels for children. High chairs, push chairs, baby bathtubs and cots as well as baby sitting services, mini clubs, flexible hours for meals and entertainment so they never get bored.
HOTEL FOR CHILDREN IN CATTOLICA
Order by:
Show on the map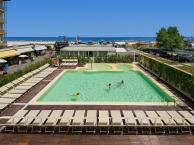 Prices: n.d.
Cattolica Family Resort
Via Facchini, 12 - Cattolica
Cattolica Family Resort is located in Cattolica, a beautiful seaside resort on the Riviera of the Romagna. The hotel is situated in an excellent location and is equipped with private parking and a...