REQUEST A QUOTATION
Hotels with air conditioning in Cattolica for your vacations on the Riviera
Good weather and warmth is what we want in summer, especially if we choose a seaside resort like Cattolica for our vacations. When the days are hot and muggy however, it is necessary to keep cool by choosing an air conditioned hotel, especially if you're travelling with small children or elderly people, who are more sensitive to the climate.
In Cattolica almost all hotels are air conditioned allowing you to cool off when the outside temperatures rise. In the rooms and in the halls, where you hang out or eat, it is important to find the best conditions for eating and resting at best, before going back to the beach for another sun bath.
HOTEL WITH AIR CONDITIONING IN CATTOLICA
Order by:
Show on the map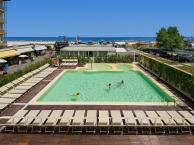 Prices: n.d.
Cattolica Family Resort
Via Facchini, 12 - Cattolica
Cattolica Family Resort is located in Cattolica, a beautiful seaside resort on the Riviera of the Romagna. The hotel is situated in an excellent location and is equipped with private parking and a...