REQUEST A QUOTATION
All inclusive hotels in Cattolica: enjoy the beach, and leave the rest to us
If you choose Cattolica for your summer vacations you might want to take an all inclusive deal which will enable you to relax and not worry about a thing.
In the hotels that offer all inclusive accommodation in Cattolica all this is possible, you can wake up in the morning and go to the beach and come back to the hotel in the hottest hours without having to worry about finding a place to eat, especially if you're travelling with children. Also the beach services are often included in the all inclusive package, giving you the opportunity to really save money and time, dedicating every minute of your stay to enjoying yourself.
ALL-INCLUSIVE HOTEL IN CATTOLICA
Order by:
Show on the map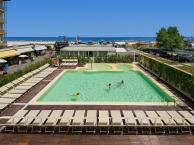 Prices: n.d.
Cattolica Family Resort
Via Facchini, 12 - Cattolica
Cattolica Family Resort is located in Cattolica, a beautiful seaside resort on the Riviera of the Romagna. The hotel is situated in an excellent location and is equipped with private parking and a...