REQUEST A QUOTATION
Hotels for families in Cattolica: fun and entertainment for children and adults
For your family vacations, Cattolica has a large choice of hotels specialized in hospitality for children and parents. The hotels for families can be defined such when they offer targeted services and special rates with reductions, discounts and free hospitality for the younger children.
For the convenience of people travelling with small children, hotels for families are usually provided with a variety of accessories, indispensable for every day needs but often too cumbersome to take with you, and also offer special care for those crucial moments such as when you need to prepare baby food.
HOTEL FOR FAMILIES IN CATTOLICA
Order by:
Show on the map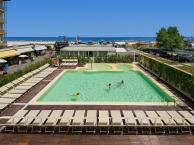 Prices: n.d.
Cattolica Family Resort
Via Facchini, 12 - Cattolica
Cattolica Family Resort is located in Cattolica, a beautiful seaside resort on the Riviera of the Romagna. The hotel is situated in an excellent location and is equipped with private parking and a...