REQUEST A QUOTATION
Your vacations in Bellaria: comfort and good value for your summer vacation
In every period of the year Bellaria proposes a series of events and opportunities for its visitors to spend a pleasant vacation. At Christmas and New Year the Viale dei Platani sparkles with lights and decorations whereas in Piazza Matteotti there are events of all kinds and the presence of famous personalities or artists is guaranteed.
In the summer, Bellaria has a rich program of events on the beach for children and adults. In the evening with the shops open late, a stroll along the main avenue becomes a pleasant alternative to the parties organized in the clubs on the beaches.
HOTEL FOR HOLIDAYS IN BELLARIA
Order by:
Show on the map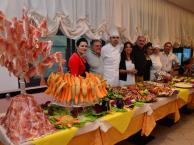 Prices: Min. € 26 - Max € 63
Hotel Ristoro
Via Dalmazia, 13 - Bellaria
Imagine yourself facing the sea, in Bellaria, one of the liveliest towns across the Adriatic Coast, in a newly built hotel offering the amenities of the best accommodation facilities. Imagine...