REQUEST A QUOTATION
Low cost accommodation without sacrificing comfort in the pensions of Bellaria
Pensions are small, comfortable, family run hotels characterized by inexpensive rates and offering genuine cuisine typical of the region. If you wish to get a taste of the traditions of the Romagna, you must book your vacation in a pension in Bellaria.
You will find a welcoming reception which will remain in your heart, a cheerful atmosphere and you can take the opportunity to learn the amusing dialect of the region, at no cost! Usually low cost pensions in Bellaria offer different deals enabling you to choose the vacation that you prefer.
GUEST-HOUSES IN BELLARIA
Order by:
Show on the map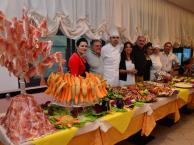 Prices: Min. € 70 - Max € 35
Hotel Ristoro
Via Dalmazia, 13 - Bellaria
For your seaside holidays, choose only the best: thanks to Hotel Ristoro you will have the opportunity to regenerate body and mind in the company of your family or friends. This splendid hotel in...