REQUEST A QUOTATION
Low cost vacations in the pensions of Riccione
The charming family run pensions in Riccione are the ideal solution if you wish to spend a few days by the sea in simple but comfortable rooms with all the essential comforts. They are particularly suitable for accommodating the more nostalgic visitors attracted by the proverbial warm hospitality of Romagna's people and the intimate and family atmosphere made of genuine tradition and ancient customs.
The cuisine is one of the best features in the pensions of Riccione. The restaurants in these small, family run hotels are managed directly by the owners and guests are served typical regional dishes and delicious traditional recipes. Homemade pasta reigns in the kitchen of the pensions: tagliatelle, passatelli, cappelletti and ravioli, served with robust meat or fish sauces, dips and fresh vegetables, all zero-mile. As well as the excellent cuisine, the intimacy and privacy offered by the pensions in Riccione are unequalled.
GUEST-HOUSES IN RICCIONE
Order by:
Show on the map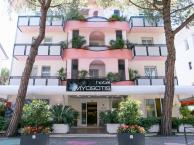 Prices: Min. € 90 - Max € 35
Hotel Myosotis
Viale San Martino, 29 - Riccione
Hotel Myosotis is situated in the beautiful city of Riccione, just 100 metres from the sea and 50 metres from Riccione Terme. The hotel is managed with a warm and family atmosphere and offers many...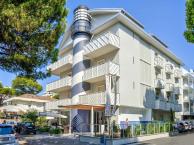 Prices: n.d.
Hotel Nautilus
Via Ponchielli, 15 - Riccione
The Hotel is located in a central and quiet position just 100 metres from the sea and 250 metres from Viale Ceccarini, ideal for shopping and walking. This family-run hotel is fully air conditioned...