REQUEST A QUOTATION
Your vacation in an air conditioned hotel in Riccione
At the peak of the summer period the temperature in Riccione can be really hot and visitors here might want to seek a little relief in a cool, comfortable place. The rooms and halls in the hotels with air conditioning in Riccione are the ideal place for a regenerating rest after a long day in the sun and before going out again in the evening to join the fun.
Guests can hang around in the cool, airy halls, enjoy delicious food in the dining rooms, all air conditioned, and relax in your room where you can regulate the air conditioner to your preferred.
HOTEL WITH AIR CONDITIONING IN RICCIONE
Order by:
Show on the map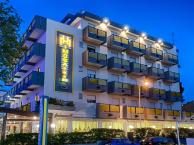 Prices: n.d.
Hotel Mimosa
Via G. D'Annunzio, 177 - Riccione
Hotel Mimosa is located in Riccione, and has been managed by the same family for many years, with care and professionalism. Our hotel is just 50 meters from the Beach Village water park and close...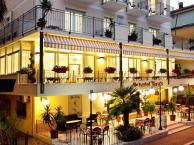 Prices: n.d.
Hotel Tura's
Via Bixio, 28 - Riccione
The 2-star Hotel Tura's has been run by the Tura family for more than 50 years. The hotel is close to the centre of Riccione, the railway station and the Spa and is situated in a strategic...