REQUEST A QUOTATION
Fantastic vacations in Riccione for your summer
Riccione, the famous Green Pearl of the Adriatic, has always attracted many tourists and visitors from all parts of Italy and abroad. Exclusive boutiques, trendy clubs, wonderful beaches and equipped bathing establishments attract many visitors to book accommodation in the town's facilities with the idea of spending an exciting vacation in one of the most famous seaside resorts on the Riviera Romagnola. The town has a large number of hospitality facilities suited to respond to the most disparate needs: elegant 4 star accommodation for lovers of luxury, comfortable 3 stars for those who wish to enjoy exclusive services and pretty 2 star hotels for those looking for inexpensive rates.
Run with competence and efficiency, the hotels in Riccione offer first class services: 24 hour reception desk, private car park, Wi-Fi connection, bicycle rental and lots more. Guests will have the opportunity to spend unforgettable vacations with the comfort and exclusive services offered by the hospitality facilities in town.
HOTEL FOR HOLIDAYS IN RICCIONE
Order by:
Show on the map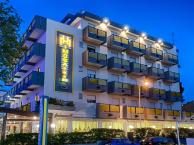 Prices: n.d.
Hotel Mimosa
Via G. D'Annunzio, 177 - Riccione
Hotel Mimosa is located in Riccione, and has been managed by the same family for many years, with care and professionalism. Our hotel is just 50 meters from the Beach Village water park and close...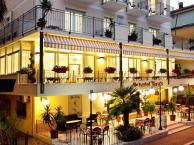 Prices: n.d.
Hotel Tura's
Via Bixio, 28 - Riccione
The 2-star Hotel Tura's has been run by the Tura family for more than 50 years. The hotel is close to the centre of Riccione, the railway station and the Spa and is situated in a strategic...