REQUEST A QUOTATION
Experience a weekend in Milano Marittima having fun under the sun
In the good season as in the colder months, a weekend in Milano Marittima is always synonymous of fun. In the warm months the time will fly while you hop from the beach to an events to the trendy clubs in a characteristically cheerful and unique.
In Milano Marittima you just have the embarrassment of the choice. While shopping enthusiasts can check out the shops and trendy boutiques, those who prefer amusement parks can get a test their adrenalin in the attractions of Mirabilandia, the famous theme park just a few kilometres from Milano Marittima.
HOTEL FOR WEEKEND IN MILANO MARITTIMA
Order by:
Show on the map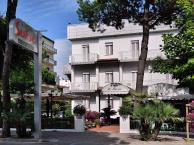 Prices: n.d.
Hotel Suisse
Viale 2 giugno, 132 - IV traversa a mare - Milano Marittima
Suisse Hotel is located on the Rivera Romagnola in Milano Marittima, just 50 meters from the beach. The location is therefore perfect to enjoy beautiful seaside vacations with your family. The...
Prices: n.d.
Hotel Santiago
Viale 2 Giugno, 42 - Milano Marittima
Hotel Santiago is in a very comfortable area, just a few steps from the city center and Milano Marittima beach. You will be welcomed with love and a typical Romagna family atmosphere. Our...