REQUEST A QUOTATION
Hotels for coeliacs in Milano Marittima: gluten free but tasty
There are a number of hotels for coeliacs in Milano Marittima because hoteliers place great attention to the needs of their guests. To guarantee a carefree vacation means knowing how to best respond to the needs of every individual guest.
The hotels in Milano Marittima for coeliacs serve the tastiest gluten free menus. Every day there's a different menu with gluten free dishes prepared with great care by the restaurant chefs. Guests who have this condition can request special menus without having to bring your own ingredients from home.
HOTEL FOR COELIACS IN MILANO MARITTIMA
Order by:
Show on the map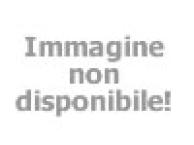 Prices: n.d.
Hotel Byron
XI Traversa, 22 - Milano Marittima
The Byron Hotel rises in the splendid town of Milano Marittima in an excellent seaside position. This comfortable three-star superior hotel is ideal for families who do not even need to cross the...