REQUEST A QUOTATION
Gluten free cuisine for coeliacs in the lidos of Ravenna
Coeliac disease has become an increasingly frequent in the population and many hotels in the lidos of Ravenna have taken this problem to heart. Many hotels in Marina Romea, Porto Corsini and Lido Adriano have adopted a special policy and included gluten free dishes in their menus. The hotels for coeliacs in the lidos of Ravenna are the ideal place for those who wish to spend a pleasant vacation without having to worry about what they're eating. Gli hotel per celiaci dei Lidi di Ravenna sono il luogo ideale per chi desidera trascorrere piacevoli vacanze al mare senza doversi preoccupare troppo di quello che mangia.
The kitchens of the hotels for coeliacs in Lido di Dante, Lido di Classe and Casalborsetti have specialized in the preparation of delicious gluten free gourmet dishes. Corn flour and buckwheat replace wheat and rye in the dough used to make biscuits and croissants for breakfast, whereas for lunch and dinner declicious meat and fish specialties are served.
HOTEL FOR COELIACS IN LIDI RAVENNATI
Order by:
Show on the map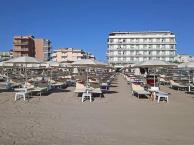 Prices: Min. € 120 - Max € 60
Mediterraneo&Levante Brora Family Village
Via Sarsina, 11 - Lido Di Savio
The union of Hotel Levante and Hotel Mediterraneo has brought to life Mediterraneo&Levante Brora Family Village, the perfect summer vacation experience for families in Lido di Savio. Enjoy a...