Hotel with air conditioning
REQUEST A QUOTATION
The cool relaxing atmosphere of the hotels with air conditioning in the lidos of Ravenna
The lush vegetation that surrounds the lidos of Ravenna contributes largely to mitigate the temperature. At the peak of the summer months, however, with the increasing humidity, the heat becomes uncomfortable also in the localities Casalborsetti and Lido di Savio. The hotels with air conditioning in the lidos of Ravenna are the perfect relief against the heat. Welcoming and with all the mod cons, they offer their guests the opportunity to relax in the comfortable air conditioned halls.
The rooms of the hotels with air conditioning provide the perfect climate for a good rest and the spacious, air conditioned dining halls wher guests can sit and order delicious foods in total comfort.
HOTEL WITH AIR CONDITIONING IN LIDI RAVENNATI
Order by:
Show on the map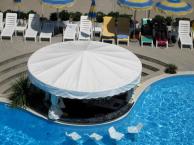 Prices: Min. € 60 - Max € 96
Hotel Marco
Viale Bagnara, 2 - Lido Di Savio
The Marco Hotel has been operated by the Foschi family since 1973. It is situated in a quiet and peaceful area overlooking the sea a short distance from the centre of Lido di Savio and is...