Hotels for disabled beings
REQUEST A QUOTATION
A happy vacation in the hotels for people with disabilities in Gabicce Mare
Gabicce Mare, like all other resorts along the Riviera Romagnola, is very sensitive to the needs of guests with disabilities that decide to spend a few days by the sea to get away from their daily routine and enjoy a relaxing vacation.
The hotels for people with disabilities in Gabicce Mare, run by competent and qualified personnel, welcome people with disabilities and physical handicaps without a problem thanks to the first class services and appropriate technology. Completely accessible and built without architectural barriers, they are provided with spacious rooms with all the necessary accessories, wheelchairs available and spacious lifts.
HOTELS FOR DISABLED BEINGS IN GABICCE MARE
Order by:
Show on the map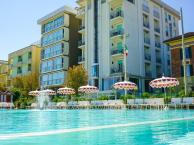 Prices: n.d.
Hotel Nord Est
Via Vittorio Veneto, 71 - Gabicce Mare
Hotel Nord Est is an elegant and comfortable 4-star hotel situated in Gabicce Mare directly on its own private and equipped beach. A privileged position in the first row on the beach that ensures...