REQUEST A QUOTATION
Hotels for coeliacs in Rimini Marina Centro, a guaranteed gluten free menu
In Rimini Marina Centro there are a number of hotels that cater for coeliacs or people who have food allergies. Here you can find a list of hotels for coeliacs in Rimini Marina Centro that offer interesting hospitality packages which guarantee gluten free meals.
You can therefore spend a carefree vacation knowing you will be served gluten free regional specialties. Even if you're on vacation with your friends or family the hotels in Marina Centro will prepare a separate menu specially for you with gluten free dishes.
HOTEL FOR COELIACS IN RIMINI MARINA CENTRO
Order by:
Show on the map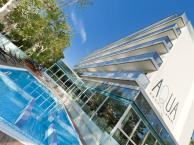 Prices: n.d.
Aqua Hotel
Viale Paolo Mantegazza, 12/14 - Rimini - Marina Centro
4-star superior hotel featuring modern environments and luxury comforts: to enjoy a special holiday in Rimini, choose Aqua Hotel. Boasting an exclusive yet discreet location in Marina Centro di...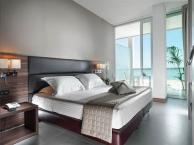 Prices: n.d.
Waldorf Suite Hotel
Viale Amerigo Vespucci, 28 - Rimini - Marina Centro
Waldorf Hotel, the ideal location for unforgettable leisure and business stays rich in comfort and versatility. Exclusive spaces, 4-star services, cutting-edge technologies and an enviable position...