REQUEST A QUOTATION
Hotels for families in Misano Adriatico: lots of advantages for a summer by the sea
Amongst the resorts on the Rimini Riviera, Misano Adriatico is undoubtedly the most suited to respond to the needs of the family. With its attractive centre, pedestrian avenue and safe beaches providing all services, Misano has become the favourite destination for families on vacation. The wide, tidy seafront promenade is the place to be in the summer evenings for a stroll, to enjoy an ice cream, to meet your friends or just to take in the sea breeze. Families with children will also appreciate the closeness to the theme parks. Often the hotels for families in Misano offer packages with admission tickets to Oltremare, the Aquarium in Cattolica, Aquafan. Or if you wish to find an enjoyable alternative for your family, visit the animal reserve and the bird watching sanctuary in Conca, splendid nature reserves crossed by cycle-foot paths.
HOTEL FOR FAMILIES IN MISANO ADRIATICO
Order by:
Show on the map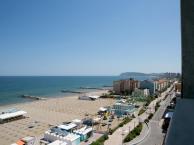 Prices: n.d.
Hotel Alexandra
Via Litoranea Sud, 6 - Misano Adriatico
Hotel Alexandra is located on the quiet promenade of Misano Adriatico, so all you need to do to get to the beach is cross it. Imagine how beautiful this relaxing atmosphere is, accompanied by the...