REQUEST A QUOTATION
Safety at the table in the hotels for coeliacs in Misano Adriatico
If you can only eat gluten free foods it is advisable to choose one of the many hotels for coeliacs in Misano Adriatico. Special menus are served in these hotels for coeliacs at breakfast, lunch and dinner. Great attention is given in the kitchens of the hotels for coeliacs to prepare gluten free foods and prevent food contamination. In Misano Adriatico and environs, you can also find some pizzeria that serve gluten free pizza but undoubtedly a hotel for coeliacs can offer more varied and complete gluten free menus.
HOTEL FOR COELIACS IN MISANO ADRIATICO
Order by:
Show on the map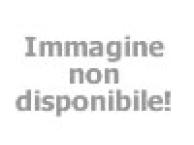 Prices: Min. € 71 - Max € 46
ACTIVE OFFERS
4
Hotel Augustus
Litoranea Nord, 67 - Misano Adriatico
A 60-year family tradition characterizes Augustus Hotel of Misano Adriatico, a modern seafront 3-star property wholly renovated in a mix of technology, elegance and design. The Brighi family...