All-inclusive holiday at the end of August Beach, swimming pool and water park
HOTEL SHEET
All-inclusive holiday at the end of August Beach, swimming pool and water park
Validity period:

24 August - 1 September 2019
Offer expired
End of August at the beach
the month of relaxation, the schools are about to begin, but at Villa del Parco we give you the last precious moments of summer starting
from
€ 70.00
Hotel 3 Stars 60 meters from the beach
we offer you All inclusive formula and find out if your
Child is Free
.. Still Few Rooms Available in Promotion !!!!
Discover the offer and our services ....
Basic Full Board Offer
Week from August 24th to September 1st
(for minimum stays of 6 nights)
6 days starting from
€ 420.00
per person instead of
€ 540.00
7 days starting from
€ 490.00
per person instead of
€ 630.00
One Free Child Up to 4 years for every 2 paying adults in a double room
(Offer subject to Rooms Availability)
Services included in the Basic Package
for You:
- strategic position
just 60 meters from the sea
crossing the pedestrian area
-
Rich and Tasty Buffet designed by Our Chef for a Full Board with even more choice and freedom with drinks
included in meals (water and house wine or water and beverage of your choice)
- rooms with
shower, air conditioning and wi-fi
-
piscinaprivata
(only for our customers)
-
Wi-Fi
connection
throughout the hotel
- rich buffet of
sweet and savory breakfasts
- Entrance to
the Water Park on the beach
for all and every day
-
Poolside Parties
(Cocomerata, Nutella party ect)
-
Theme nights
:
Romagnola
with all our typical dishes from homemade piadina, gratinis, cold cuts, pasta with meat sauce, handmade donut and piada and nutella
Rustida del Pescatore
super buffet all based on fish with fresh salads, scallops au gratin, seafood risotto, grilled fish and much more with accompanying music
With only
€ 7.00 per person per day Premium ALL INCLUSIVE package
from € 78.00 instead of € 100.00 !!

7 nights from € 546.00 instead of € 700.00 !!
All Inclusive Package - Premium:
- Beach service (1 umbrella + 2 sunbeds) with Animation and Water Park
-
free entry to a water park on the sea
-
Private car
parking
-
Free
beach lunch
Dedicated services for your child:
Indoor and outdoor dedicated play area
Baby Club Animation Service during meal times for the most complete entertainment: with Baby Dance, Face Painting, games of entertainment and interaction with other children and much more ...
At the restaurant we will spoil you with any variations proposed by our Chef Ermanno, high chairs and baby placemats. For newborn babies: vegetable broths, vegetable pastes and pastries ..
Bar service open 24 hours if you had to heat the milk at any time
Strollers available to our customers
Bicycles with seats for babies and children a bit 'bigger
In the room: bed rails, baby baths, cribs
Tourist tax not included in the quotations
Contact us Now for information or a quote, in a few minutes your holiday will be Reality ..

Tel. + 39 0541 372550 or +39 333 2847955
E-mail:
info@hotelvilladelparco.net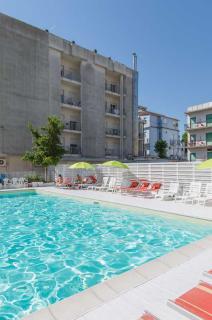 VISIT WEBSITE
Hotel Villa del Parco
Viale Regina Margherita, 85
47924
Marebello - Rimini
(Rn)